Family Fun In Seaside Oregon, Cannon Beach And Manzanita
Seaside, Oregon's Pristine Beach
Seaside, Oregon has been a tourist destination for generations. Three miles of sandy beach, the world famous promenade, specialty shops, dining, arcades, the Lewis & Clark statue and endless activities are all within walking distance of each other. Take the entire family on the vacation of a lifetime here in Seaside. Watch salt water taffy being made the old fashion way, feed the seals at the aquarium, play volleyball on the beach or enjoy the swing sets on the beach. More Info Here
Cannon Beach
Just south of Seaside, Oregon is Cannon Beach. Cannon Beach is more like an artist mecca: quaint, beautiful and serene. If you've ever seen pictures of the Oregon Coast chances are you have seen Cannon Beach, especially Haystack Rock, which is iconic to Cannon Beach. Named for a cannon that washed up on the beach in 1846, the town has worked hard to preserve its beauty. There are nice retail shops, galleries, dining, and plenty of things to see for the entire family. More Info Here
Gearhart Beach
There is nothing like packing up the family, getting friends together and loading up the car for a picnic and bonfire on the beach, especially when you can drive on it. Enjoy 10 miles of beach driving. Pick your favorite spot and have a blast. Just north of Seaside you will find see the entrance to Gearhart. Follow that right down towards the beach access. Be sure to bring plenty of food and sand toys, pails etc.... This is the place where memories are made. More Info Here
Astoria, Oregon
The area of Astoria and Warrenton is a nationally significant historic region. Astoria is the oldest American settlement west of the Rockies; a place that takes visitors back to simpler times, its architecture dominated by hundreds of Victorian homes clinging to steep wooded hillsides and with a revitalized 1920s era downtown; all set against a backdrop of tremendous natural beauty in the temperate rain forest at the mouth of the Columbia River. Attractions including Fort Clatsop, the Columbia River Maritime Museum, the Flavel House, Fort Stevens State Park, the Astoria Riverfront Trolley and the Astoria Column. The area has an extraordinary sense of place and feeling of history. For families with kids that want a little taste of Hollywood, The Goonies, Kindergarden Cop, & Free Willie were filmed in Astoria. More Info Here
Kids And Seaside, Oregon: The Perfect Mix There is so much to see and do for kids in Seaside, Oregon that we decided to dedicate an entire section of our website just for Kids! Kid's from 1 to 101 that is! This section is dedicated to all kids of all ages. It's the perfect mix !
Seaside Aquarium, 200 North Prom, Seaside, Oregon 97138 (503) 738-6211.
The Seaside Aquarium has been a top family attraction in Oregon ever since it opened its doors in 1937. Kids love getting first-hand experience with marine life at the hands-on touch tanks, but the highlight of the aquarium is getting to feed the playful harbor seals that vie for visitors' attention and the chopped fish that they're throwing. Seaside Aquarium is one of the oldest aquariums on the West Coast.Founded in 1937, the aquarium is privately owned and the descendants of some of the founders are still active in the aquarium operation.
The aquarium is proud to be involved in public awareness programs: Marine Mammal Stranding, Seaside Beach Discovery Program, Sea Week, Haystack Rock Awareness Program, the Wildlife Center of the North Coast and other marine education tours and activities for school children.
Seaside Inverted Experience 111 Broadway St #11 Seaside, OR 97138 Movie Line: 503-470-8040
The Inverted Experience is located just east of the Round About. A one of a kind photo adventure, with a Seaside vintage theme. Enjoy family-friendly fun for all ages in this Inverted World. We take pictures for you on YOUR cell phone and pose you with our Inverted props. Pick your favorite shots to have printed and take home!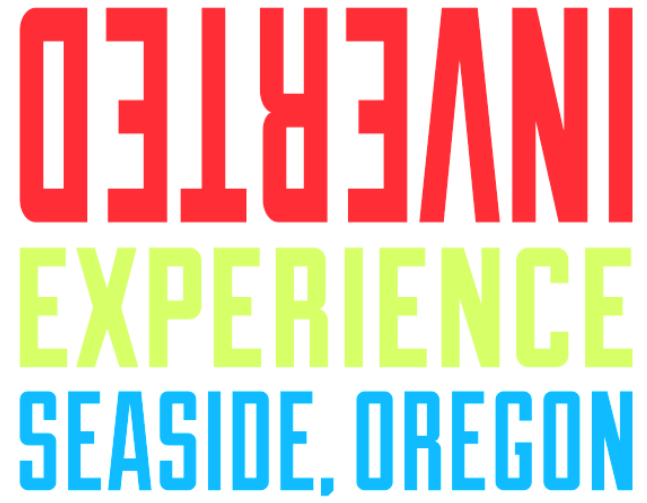 Seaside Cinema 1026 12th Avenue Seaside, OR 97138 Movie Line: 503-738-0671
The Seaside Cinema is located just north of the Seaside Factory Outlets on Hwy 101 & 14th. The cinema is a great place to take the entire family. See blockbusters as they release, enjoy cartoons with the kids, and don't forget to pick up some snacks at the snack bar. With professional management, attention is given to the customer to ensure that their movie experience is a great entertainment value. Every detail is top priority with management to establish and maintain high standards for cleanliness in our lobbies, auditoriums, restrooms, and quality state of the art presentation in our auditoriums. Courteous attendants staff each of the concession stands and monitor our auditoriums.
NOW PLAYING !
CHECK OUT THE LATEST FROM SEASIDE CINEMAS
Funland Arcade Corner of Columbia and Broadway Seaside, Oregon (503)738-5612
Even though we boast that we have provided family fun since 1931, the Seaside Arcade – "Funland Entertainment Center" has actually been part of Seaside's history since 1929! Experience the North Oregon Coast's largest arcade! Hundreds of arcade video and redemption games! We have everything from the latest and greatest "virtual reality games" to longtime favorites!
There is something for every age! Come In to Enjoy: Fascination, Skee ball, Air Hockey, Bumper Cars, Pinball, Dance, Dance Revolution, Horse Racing- Derby Owner's Club, NBA Hoops, Big Bass Wheel, Spin-N-Win!, Wheel of Fortune, Dirty Drivin', Jumpin' Jackpot, Guitar Hero, In the Groove 2-Pump it Up, Dance, Dance Revolution USA, Mad Wave Motion Theater, Portrait Studio, Winner's Cube Electronics Crane, Pirates Chest-Jewelry Crane, Stuffed Animal Cranes, and much more. Then stop for a pizza at Fultano's.
Seaside Carousel Mall 300 Broadway, Seaside Oregon 97138 Phone: 503-738-6728
20 unique shops surrounding a full size working carousel. The mall offers dining, snacks, coffee, specialty gifts, art, imports, games, clothing, jewelry, toys, candies, ice cream, old time photos & portraits, beads, and much more.
Wheel Fun Rentals
407 S. Holladay Drive
Seaside OR, 97138
(503) 738-8447
Bike Rentals There's nothing like riding a big bike around Seaside with the entire family or a bunch of your friends. Seaside has many bike rental companies as well as all types of bikes for you to choose from. JFK once said "Nothing compares with the simple pleasure of a bike ride" and we couldn't agree more. In our fast-paced lives, it isn't always easy to slow down and enjoy our surroundings; Self Guided Tours offer a unique chance to do just that. Bicycle tours are designed to make it easy to stop in many pleasant spots, dawdle and enjoy, take in the scenery and fresh air all while fulfilling your spirit of adventure! Our entire fleet is designed for fun. We offer a fleet of vehicles so cool, you'll want to stay all day. Try a Surrey with a fringe on top or one of our other specialty cycles. We offer sizes for couples or for the entire family to share. In some locations you can rent Fun Cars, Mopeds or Scooters. And when there's water we've got pedal boats, kayaks and canoes.